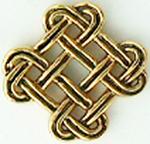 Size: 7/8" x 7/8"

Inspired by the center motif of a gold filigreee rosette with a four-partite interlacing design. The technique used may represent an outgrowth of the earlier Fatimid tradition.
Syria or Egypt, last half of the 14th century A.D.
From the treasures of Dar al-Athar al-Islamiyyah, Kuwait National Museum.
24 Karat antique gold-plate over pewter.