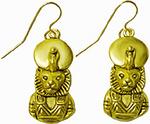 Size: 0.5" x 1"

SAKHMET JEWELRY
Dynasty 26. reign of Amasis (570-526 BCE).
Our Sakhmet jewelry was adapted from a solid gold pendant shaped as alioness-headed Sakhmet, goddess of medicine and healing. The original was found during The University of Pennsylvania Museum's excavation (1915-1919) in the city of Memphis, the ancient capital of Egypt. While amulets such as this one were often worn by the dead, they could also be used by the living to offer the protection of particular divinity to the wearer.
24 Karat antique gold-plate over pewter. Earring-posts are sterling silver.