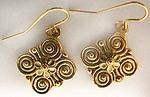 Size: 3/4" x 3/4"

These quatrefoil earrings are an adaptation from thirteen piece gold necklace, representative of funerary jewelry found in Asia Minor in the forth century B.C. These quatrefoil pieces with rosettes, depicting four symmetrically disposed spirals, are an old one old one in the ancient near East.
24 Karat antique gold-plate over pewter.
Ear-wires are gold-plate over sterling silver.